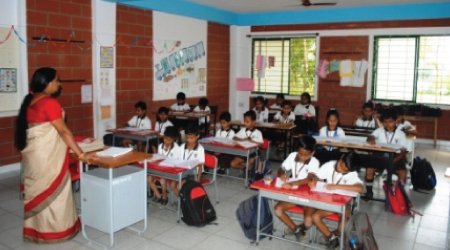 A classroom is a learning space where education or training is provided. The classroom attempts to provide a space where learning can take place uninterrupted by outside distractions. We have large brightly lit classes to ensure an active and alert listening from students. They are well furnished as well along with ICT boards.
The Library is the brain of any school. The urge to seek knowledge beyond the walls of the classroom is essential. The mind needs to be well-fed with thoughts and ideas to become strong and sound. Books are the best means to attain such a sound mind. With 1000 and more books and many periodicals in the library, our main aim is to get our children into the reading habit. We ensure that the library is well stocked with a wide range of reading material – fiction, non-fiction, reference, and reading material in order to assist in the development of literary, numerical, soft skills, and research skills.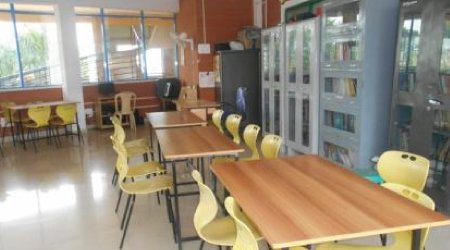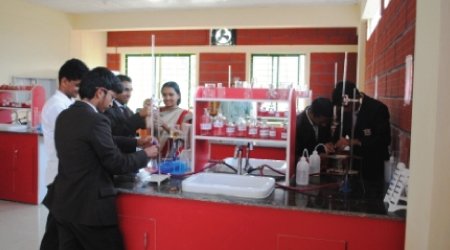 Conducting experiments, reviewing, developing logical reasoning, analyzing information are some of the skills that will help to create scientists, engineers, and medical professionals. Learning becomes concrete with first-hand experiences in laboratories. In our three brand-new state-of-the-art laboratories for Chemistry, Biology, and Physics, fully equipped as per the guidelines laid by CBSE, we have created a congenial and secure environment with vital safety measures to mitigate unforeseen mishaps. 
The labs are equipped with the latest technological devices in order to support cutting-edge experimentation. All students in these laboratories learn how to design and execute their own experiments, record their findings, and draw up scientific reports.
India's prowess in the information technology industry is recognized across the globe. The scope of information technology can be prophesied easily as it's needed in each area of our life. Therefore we emphasize computer operating skills, web designing, multi-media, coral draw, photoshop, HTML, apart from the very basics of ICT. Our computer lab is equipped with 25 computers and an internet facility to develop the skills needed for this digital era. The computer-student ratio is 1:1 and computers are with VGA shares and the latest software.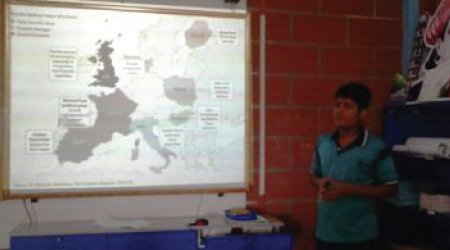 Sport and physical education are fundamental to the early development of children. The skills learned during play, physical education, and sports contribute to the holistic development of students. Through participation in sport and physical education, students learn about the importance of key values such as honesty, teamwork, fair play, respect for others, and adherence to rules. Our Physical We are highly committed to fitness and wellness. We emphasize drawing out the best sporting instincts in students and getting all children involved in physical activity.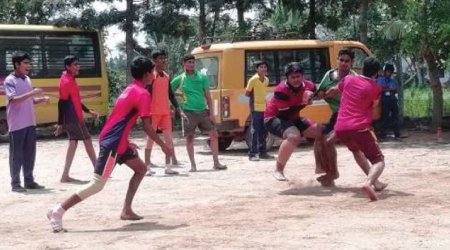 Cricket, Football, Tennis, Basketball, Volleyball, Badminton, and Table Tennis are played throughout the year along with athletic events and other indoor games. Sports day is an annual feature in our school which is most-awaited and is played with a high competitive spirit.
Transportation

 Facilities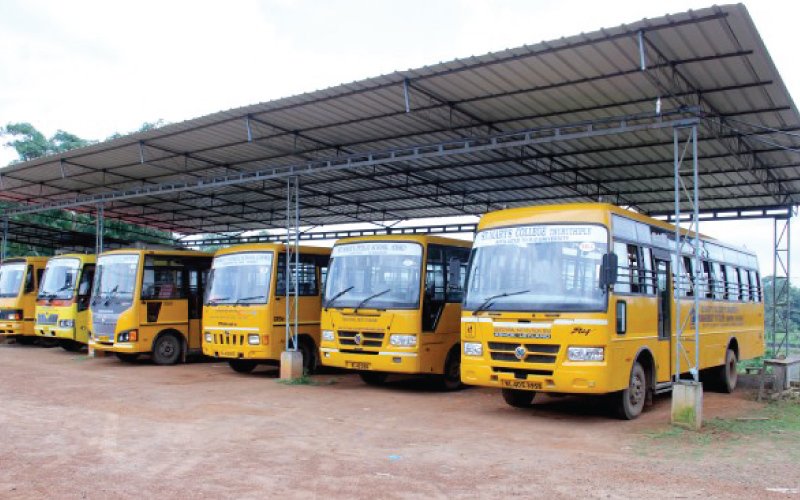 Our transportation facility covers a large area of about a 28km radius from our school premises with the aid of 5 buses and 4 minivans. We have students from areas like Srirampura, JP Nagar, R K Nagar, Sharada Devi Nagar, Dattaglli, Kanakadasa Nagar, Roopanagr, SBM layout, Treasury layout, Bogadi, Vijayanagar, Kuvempunagar, Chamundipuram, and Gaddige. Each bus has an in-charge teacher and a female caretaker to ensure the safety of students. We have a set of rules to be followed by the students once they board the bus. 
Loud talking, eating, and standing while moving are prohibited which if not followed are with the consequences of withdrawing the bus facility. The seating arrangement is fixed and phone numbers of each parent are provided to the drivers for safety measures.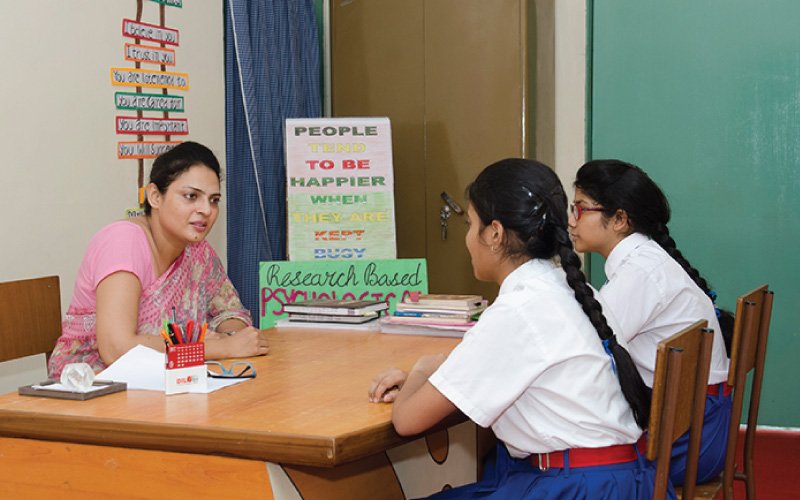 Stressful, emotional turmoils are seen in children of age 12 and above. They need guidance and counseling to overcome their difficulties. Ms. Shivani, a clinical psychologist supports us with the counseling. She is also an expert in detecting slow learners with different types of learning disabilities. Such students are spotted and guided with the help of AIISH.
Career counseling sessions are conducted with the 'Meet the Achievers' program wherein successful professionals guide our children on the courses to be chosen and qualities to be developed for succeeding in their desired profession.
Child safety is of utmost priority to us, may it be in any nook and cranny of the school. A security guard is instructed to check the inflow and outflow of students and outsiders. Parents are provided with parent cards without which students are not allowed to access the out pass in case of their parent's personal emergencies. In charge of teachers for each floor ensures safety and discipline. Each class and corridors are with CCTV cameras. Female attendants and caretakers are allotted in each corridor and washroom.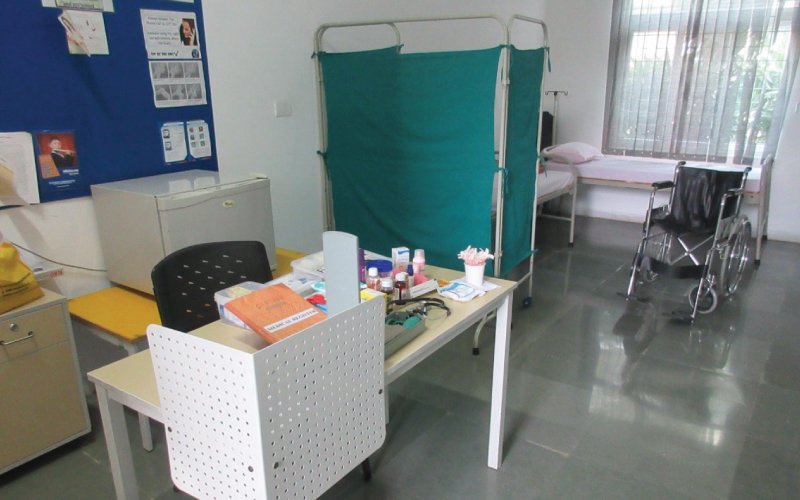 Our commitment to the health and well-being of our students is at its extreme. We have well-stocked first aid ready at all times with a room to rest in case of illness. For emergencies, we have a driver and vehicle ready around the clock. Parents will always be called immediately in case of any serious medical issue. The school has a Primary Health Care Centre at a distance of ½ Km, a dispensary within 1 ½ Kms. In times when contagious diseases creep in we guide children by instructing them on the dos and don'ts. The medical records of the students are maintained by the school for the benefit of the students.
We have a canteen which helps our students get nutritious, delicious, fresh and hygienic food in case they have working parents or in case they need food due to some personal reasons. With coupon and on-demand facility we want to provide children with a diet that helps them stay mentally alert, fight off illnesses and grow into healthy adults. We intend to maintain healthy food habits. Our food is literally homemade with no additives or flavorings substances, available at a reasonable price.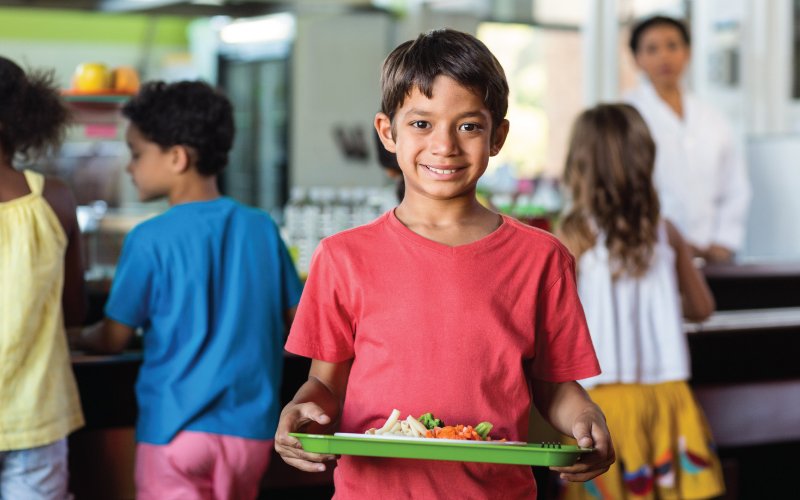 All rights reserved © 2022 Pandit's The Orchids Public School & PU College | Designed by Chanakya Solutions